Taking his rolled up portable chess board with him almost all the time, thirteen-year-old Charee Myrick is always ready to play chess.
Having learned how to fine-tune his skills in the back of the Reflection Eternal Barbershop in Baltimore's Barclay neighborhood, from owner Sundita Osagie, Myrick has become the national K-8th grade champion and his love for the game shows through each move across the board.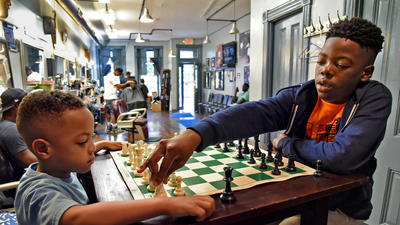 "It's a really cool game, to learn," Myrick tells WBAL TV in an interview. Taking home the grand prize and trophy on Mother's Day in Washington D.C., required a lot of focus and strategy, but Myrick was up for the challenge. "For each game, you had four hours to play, so it was just a lot of focusing and playing and you had a lot of time to do what you needed to do. It was a lot of fun, not just playing chess but being in Gaylord and the Mall. It was just a really fun experience."
Of course, Myrick does not want to stop here. The talented teen hopes to make nationals with his team next year and to continue on to play in high school and beyond, eventually with the goal of becoming a grand master and earning a degree from Stanford.
Congratulations, Charee. We look forward to definitely seeing your next moves!