Being a mother is one of the hardest jobs ever. It is a non-paid journey that doesn't include vacation time, PTO, nor a 401K plan. A mother is expected to be protector, disciplinarian, educator, cook, chauffeur, referee, housekeeper, and ATM, all while trying to carve out a few moments to herself.
Mother's Day is a day dedicated to just saying "thank you, mom" for all that you do! Recently, to highlight just how special it is to be a mom, Rebel Lifestyle Magazine sat down with TV personality and mother, Mimi Faust, in honor of the special day, to talk about "all things motherhood" and what makes her relationship with daughter, Eva, so super special.
"Motherhood has made me a better person, because I always have to put someone before me, and it has made me more mature," Faust tells the magazine. "It's not just me anymore. It's her and I, and she comes first."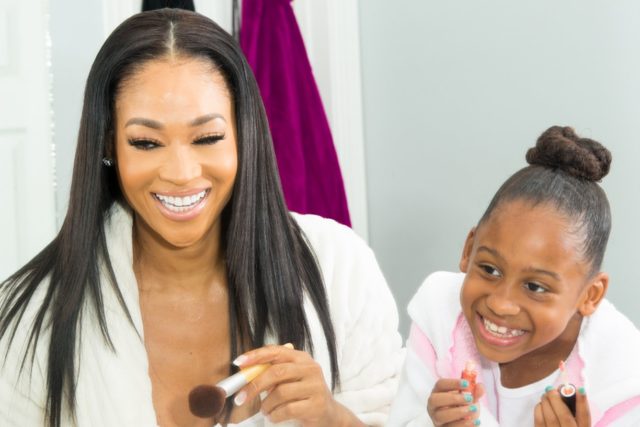 The small business-owner goes on to tell the magazine that, on her seven year journey as a parent, she has had to learn a myriad of lessons, including how to make mistakes, sharing with her daughter that, "sometimes Mommy makes mistakes, but you can always turn them around and fix them."
Enjoying an honest and open relationship with her "Nugget," Eva's nickname for her daughter due to her being a preemie, the interior designer admits that the most important part of life is juggling her schedule to be a mother and make it work. "I just do it. You figure out, and you make it work. It is difficult, but it's a lot easier than when it started." The two enjoy watching movies together and of course, fashion.
And what does Eva tell Rebel Lifestyle Magazine that she wants the world to know about her mom? Well, that Faust is "…the best mommy in the world!" And to that, Faust says that, "[Eva is] the best nugget ever!"
To women who are about to join the wonderful world of motherhood, Faust offers the following advice: "Everyone is different. My best advise is to do right by your kids. There are bumps along the way, but it's ok. It will be a better relationship in the long run. None of us are perfect. As long as you learn from your mistakes, you will be fine. You can always do better and learn from them." She goes on to also say, "I have weaknesses, just like everybody. I have insecurities. It gets difficult as a single mom. I go through it like everyone else, but you just keep going. My daughter is my drive and my motivation."
We couldn't have said it better ourselves! To check out Faust's new website and read her blog, "All Things Mimi," click here or follow her on Instagram here.
Photos: Rebel Lifestyle Mgazine