Tamar Braxton is killing the drama before it starts. The celebrity mom recently gave a lengthy response to a woman on Instagram who claimed that Tamar's husband, Vincent Herbert, fathered her child.
"This is me n Vincent Herbert 7-year-old daughter," the woman who goes by the Instagram name of parisherbert shared along with a picture of a little girl. "She will be 8 on June 28th!!!! He had a one night Stand with me the night before his wedding and paid me to keep quiet! Now he refuses to support his child anymore so I have to take matters to social media."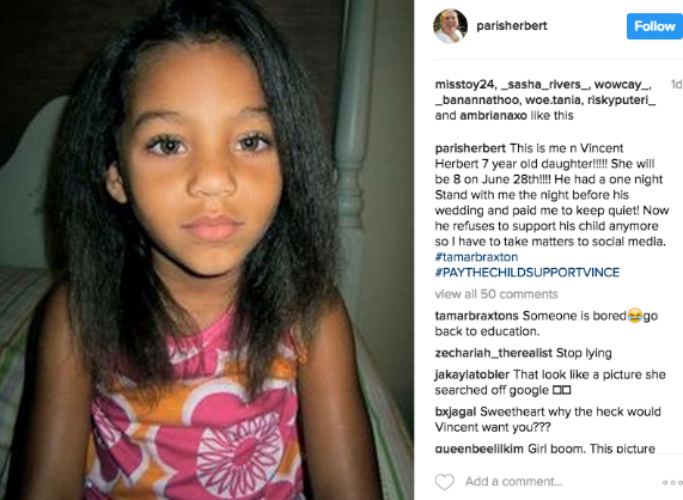 Tamar promptly responded to the woman's accusations with a lengthy and powerful post of her own. "Let me be CRYSTAL clear before this untrue story gets out of hand," Tamar began. "Let me explain to you all what kind of WOMAN I am!! If this was.. she would be MINE as well.. she would be all over MY Instagram, media outlets, pictures interviews etc.. because that's the type of WOMAN I am. I'm not selfish and hateful that I would only recognize the child he has with ME!!"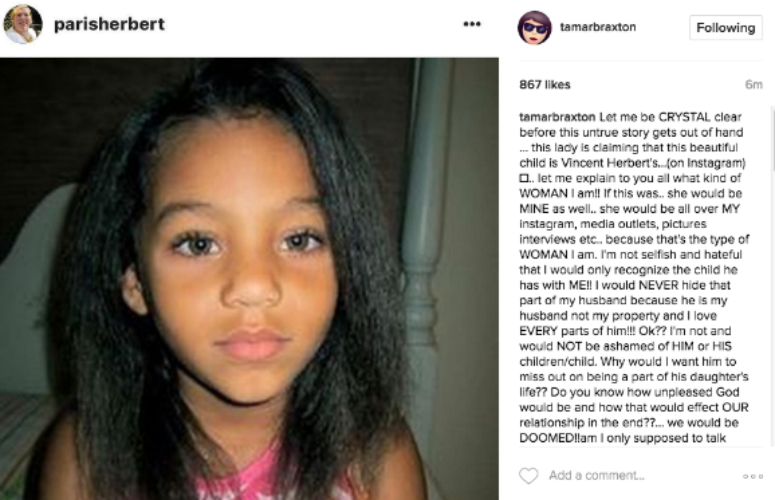 Tamar went on to tell viewers, "I would NEVER hide that part of my husband because he is my husband not my property and I love EVERY parts of him!!! Ok?? I'm not and would NOT be ashamed of HIM or HIS children/child." The celebrity mom also revealed that her husband was with her sister, Toni Braxton, the night before their wedding day and "yes he USED to like white women but only the ones that look like Kelly ripka??????? and you don't make the cut boo!!"
Vincent Herbert and Tamar Braxton are the proud parents of a son named Logan. They celebrate nine years of marriage this year.