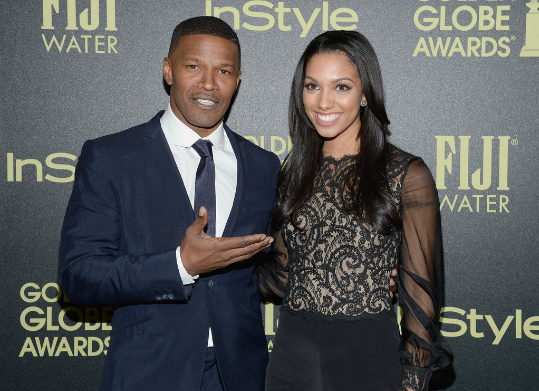 Jamie Foxx must be proud. The actor's daughter, Corinne, has been named the 2016 Miss Golden Globe. Jamie accompanied Corinne to the awards ceremony, hosted by the Hollywood Foreign Press (HFPA) and InStyle, on Tuesday.
"I've known for about 3 weeks," says Corinne. "I was so excited," she adds. "I had all of this energy and I'm not lying, for an hour straight, just jumped around my house and was bouncing off the walls, and was Googling all of this stuff about Miss Golden Globes so I was really excited."
Jamie was also excited for his daughter. "He's a little bit emotional," shares Corinne. "He won't admit it, but he had tears in his eyes and he was so happy for me to kind of have my own thing now."
While finding her own way in the world, Corinne reflects on the example of her dad. "Throughout the years I've grown up watching my dad establish himself as a well-respected actor," says Miss Foxx. "I'm honored that HFPA has given me the opportunity to now share the same stage where he's been recognized for some of his greatest accomplishments."
Corinne is Jamie Foxx's oldest daughter. The actor also has a little one named Annalise who often travels with her father to community events.
Photo: Getty Images