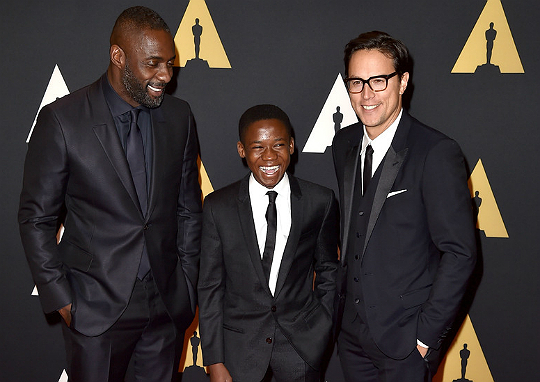 Abraham Attah is traveling Tinseltown in promotion of Beasts of No Nation. The young star attended the 2016 Golden Globe Award Season at Ysabel on Tuesday just days after posing on the red carpet beside Idris Elba and Cary Joji Fukunaga on the red carpet at the Academy of Motion Picture Arts and Sciences' 7th annual Governors Awards. The teen was all smiles while in the spotlight at the two events. He even rocked formal wear at the Governors Awards.
Life has changed for Abraham ever since Cary selected him for the role of Agu in Beasts of No Nation. The director picked the teen out of a number of other children in Ghana because of Attah's maturity. "Abraham was one of the more responsible kids there, keeping the other kids in check, telling them to pay attention or explaining things," says Cary. "He's a serious guy, and he liked telling people what to do."
In being serious, Abraham portrayed his role incredibly well. "It looks real," shares the teen of his performance. "If I'm watching it, sometimes I cry. If I'm watching it and I hear what I say, I feel sad."
Beasts of No Nation made its debut on Netflix last month. Many praised Attah for his acting skills, which were quite impressive due to the film being his first major role. See the young star in action in the movie's trailer!
Photo: Getty Images