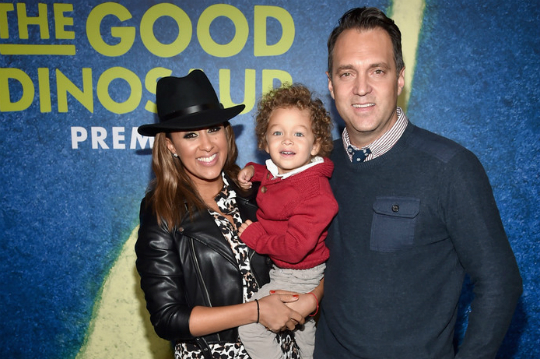 Aden Housley is doing big things now that he's another year old. The toddler accompanied his mom, Tamera Mowry Housley, and dad, Adam Housley, to The Good Dinosaur premiere in Hollywood on Tuesday where he had his first red carpet experience at the El Capitan Theatre.
Aden was in the spotlight for nearly sixty minutes before growing tired and restless. "He was confused by the flashing lights but I'm so proud he lasted for 45 minutes," shared Tamera with Instagram fans after the premiere. Adam also uploaded a picture from his son's experience on the red carpet.
The Good Dinosaur centers around a dinosaur named Arlo. The Apatosaurus discovers a new life after making a human friend. Moviegoers will learn the true meaning of friendship through this funny yet powerful film. The Good Dinosaur makes its public debut on Wednesday, November 25, 2015. See the trailer below.
Aden is Tamera and Adam Housley's oldest son. He celebrated his third birthday, which was on November 12, 2015, with a Thomas the Train themed party. Tamera and Adam also have a daughter named Ariah who was born earlier this year.
Photo: Getty Images