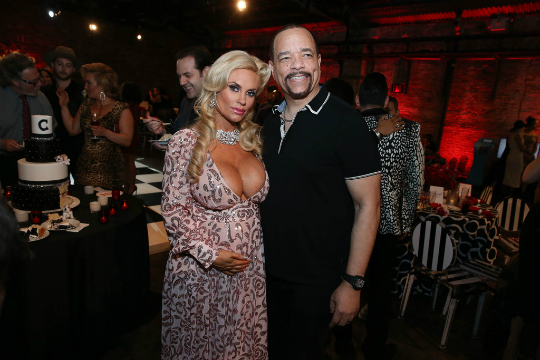 Coco Austin and husband Ice-T are getting ready for baby. The couple had a pre-birthday celebration party at Cedar Lake Events in New York City earlier this week. Coco tried several outfits out before deciding to go with the sparkly dress.
"Picking out fashion for tonight's party with/David Tutera," captioned Coco underneath one picture. At the time, the television personality considered the dress that she wore to the party as "another option … Picture does not give this dress justice … its so sparkly."
Coco recently told PEOPLE.com that she was overjoyed when she found out that she was pregnant. "I took the test and when I found out, I ran downstairs. He was on the computer and I was bawling, screaming. He thought someone died. He was just as surprised as me," said Austin.
She further explained, "You never think it could really happen to you — that you can actually make a human being — and when you do, you're like, 'Wow!' It's a miracle how life can happen."
Ice-T and Coco are expecting their first child, a daughter, together. They have decided to name her Chanel. See more pictures from the party below!
Photo: Getty Images