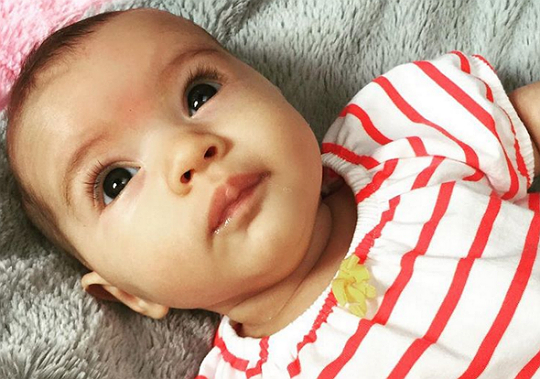 Jagger Snow is a cutie! The infant was recently photographed by her father, Evan Ross, while laying on her blanket.
"I cant even explain the way she makes me feel," captioned the proud father. "Beyond words," added Ross. "We did this baby @ashleesimpsonross."
Jagger was born on July 30, 2015. She joined big brother Bronx at home, and make her demands known. "She definitely knows what she wants and will let you know," says Ashlee of her daughter to PEOPLE.com. "She got that from her mom," adds Evan.
Even with Jagger being forward, Bronx is a good big brother. "Bronx is so good with her," reveals Evan. "He carries her and makes sure he watches her all the time. We have an amazing family."
Ashlee further explains, "Their age difference is really sweet. Bronx is such a good big brother. He's a pro. He dances for her and entertains her. It makes home so awesome."
Jagger is Ashlee and Evan Ross' first child together. Bronx is Ashlee's son from a previous relationship.