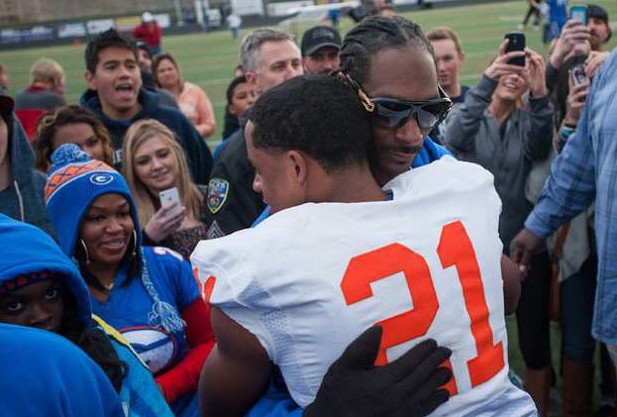 Cordell Broadus played hard on the field for his father. The young adult recently revealed that his football ambitions revolved around what he thought his dad, Snoop Dogg, wanted.
"I played football for my father because I thought that was the only way he would love me and be apart of my life," shared Cordell on Tuesday. "It took me 12 years to realize he loves Cordell Broadus the person not Cordell Broadus the football player. The best day of my life was when I heard those exact words."
Cordell decided to attend the University of California in Los Angeles (UCLA) after receiving several scholarship offers from other schools for his incredible football skills. The young adult later decided to stop playing the sport altogether, and shared his passion for film with family and friends.
"Cordell informed me yesterday that he has decided to pursue other passions in his life — in particular his love of film through his company Film School Productions," said UCLA coach Jim Mora shortly after Broadus broke the news of his departure from the team. "Cordell is an amazing young man with many talents, and we wish him nothing but the best as he continues to pursue his degree at UCLA."
Snoop Dogg has three kids with his wife, Shante Broadus. Cordell is the couple's youngest son.