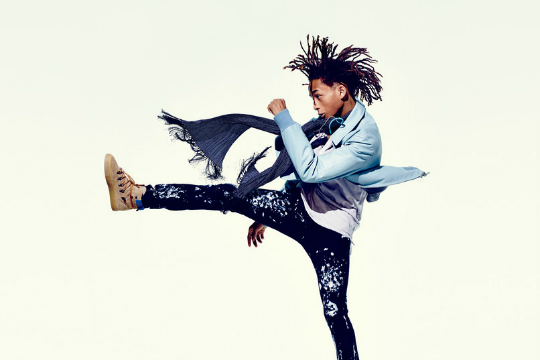 While many young stars view interviews as opportunities for exposure, Jaden Smith sees them as experiments. The actor tells GQ Magazine that he and little sister Willow do outlandish things during public appearances to get a reaction out of fans and critics.
"Me and Willow are scientists," says Jaden. "Everything for us is a scientific test upon humanity. And luckily we're put in a position where we can affect large groups of human beings at one time."
In affecting large groups, Jaden classifies the responses of some fans and critics as funny. "It's so much fun," shares Smith. "It's the best thing. People think you're crazy—I feel like it's an honor, actually, for people to think I'm crazy. Because they thought Galileo was crazy, too, you know what I'm saying? I don't think I'm as revolutionary as Galileo, but I don't think I'm not as revolutionary as Galileo."
Jaden is certainly revolutionizing the music industry with mellow songs that are much different from his father's style. In all of his efforts, the teen hopes to pass on the beauty of confidence. "I built my own bed, I built my own closet, um, I built two closets, I built four beds," shares the star. "I just want to teach people how to be comfortable. Stop being so scared."
Jaden is Will and Jada Smith's oldest son together. The couple also have a teen daughter named Willow. Will Smith has an adult son named Trey from a previous relationship as well.
Photo: GQ Magazine