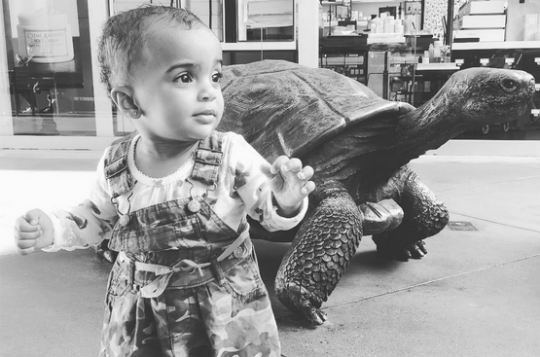 Lance Gross is enjoying life as a father and husband. The actor recently shared pictures of his wife and daughter at the pumpkin patch.
Gross shared a photo of his wife, Rebecca, leading little Berkeley by the hand through the patch. The celebrity mom was completely focused on her daughter who was also looking away from the camera's lens. "My ladies," shared Lance. The star father also uploaded a picture of his little one posing beside a turtle and captioned, "Lil Squad" underneath.
Lance, who affectionately calls Berkeley his little turtle, cannot get enough of the family life. "Some of the most rewarding experiences being a father is being able to be present," said the star during one interview. "Spending as many moments as I can with my little girl. It's amazing how things shift from worrying about yourself and what's next to this new life you've created."
The actor also doted on his wife. "She's beyond a best friend," shared Lance with Essence.com. "She's such a cool individual that isn't afraid to march to the beat of her own drum. I find a lot of inspiration in that. She doesn't sweat small stuff and keeps a positive outlook from A to Z."
Rebecca and Lance Gross welcomed little Berkeley last year. She will celebrate her first birthday next month. The Gross' tied the matrimonial knot earlier this year.