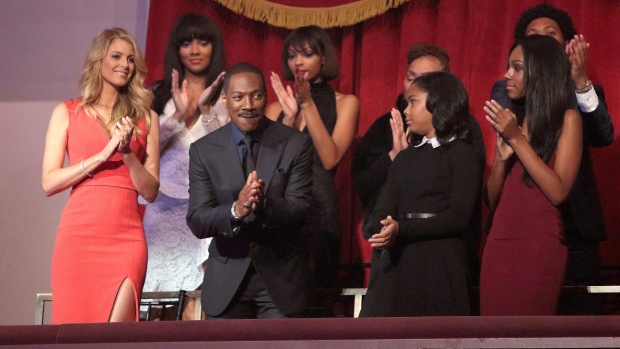 Eddie Murphy was the guest of honor at the Kennedy Center for Performing Arts this past weekend. The veteran entertainer was the recipient of the Mark Twain Prize for Humor.
Several celebrities came out to congratulate and support Murphy on his special night. "He's the reason I'm in comedy, said fellow actor Tracy Morgan. "He's the reason I have a job. He's the reason I have a career."
According to the Kennedy Center, "The Mark Twain Prize recognizes people who have had an impact on American society in ways similar to the distinguished 19th century novelist and essayist best known as Mark Twain." Eddie Murphy was every bit excited to be the recipient of the award. "I am deeply honored to receive this recognition from the Kennedy Center and to join the distinguished list of past recipients of this award," said the star in a statement.
Several members of the Murphy family were also in attendance. Bria Murphy shared pictures of her and the family during the monumental weekend, which included one of the family visiting the White House.
Eddie Murphy has five kids with ex-wife Nicole Murphy. The comedian also has a daughter named Angel with Melanie Brown, a.k.a. Mel B.
https://instagram.com/p/86yIlOAqCk/