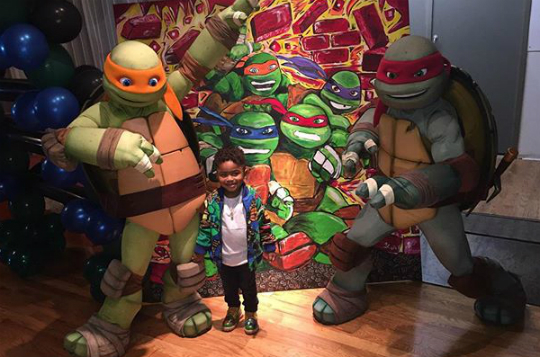 Happy Birthday PJ! The son of Chicago Bulls star Derrick Rose and Mieka Reese celebrated his third birthday this past weekend. The little one had a smashing Ninja Turtles themed party that had several cakes along with beautiful decorations.
Mieka and Derrick certainly went all out for their son with four small cakes and one large tiered cake that was every bit creative. "When Pj ask Jordy for cakes," captioned Mieka underneath a collage of the pastries. "Thank you so much to @exjordynary #PjTurns3," wrote the star mom. Miss Reese also uploaded a picture of little PJ dressed in full Ninja Turtles gear. "He's ready," shared Mieka along with a candid of her son wearing a stylish jacket and shoes.
Mieka and Derrick welcomed their son on October 9, 2012. The Chicago Bulls player was in full celebration mode when his son was born despite recovering from a major injury that prevented him from playing ball at the time. "Everything stopped when he was born," said Derrick shortly after PJ was born. "I try to spoil him as much as possible, not only with material stuff, but just being around him with love and support, letting him know that I will always be there."
See footage from PJ's birthday celebration below!
https://instagram.com/p/8t55DSr4kI/