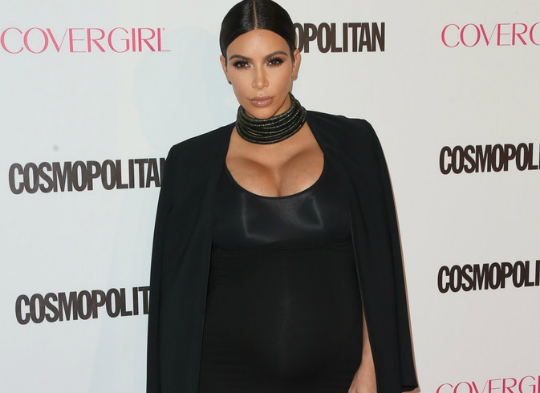 Kim Kardashian-West looked fabulous in black at Cosmopolitan's 50th birthday celebration at Ysabel in West Hollywood on Monday night. The expectant star showed off her bump and cleavage while wearing a form-fitting dress designed by Wolford. The reality star also wore a black coat that covered her arms to the event.
Kim's transparency on 'Keeping Up With the Kardashians' will go to another level in upcoming season as one promo reveals the star telling her family that she may have diabetes. "They saw more fluid than normal in my placenta, which can mean I have diabetes," says Kim in the clip. Fans also get to see the Kardashian's reaction to Kylie's decision to invite Tyga on a family trip.
Kim is expecting her and husband Kanye West's second child to arrive in December. The little one will join the couple's daughter, North, at home.
Bonus:
During the weekend, Kim along with her husband and daughter were spotted in San Francisco. Kanye performed at a democratic fundraising event at Warfield Theater that had President Obama as one of many attendees.
Photo: Getty Images