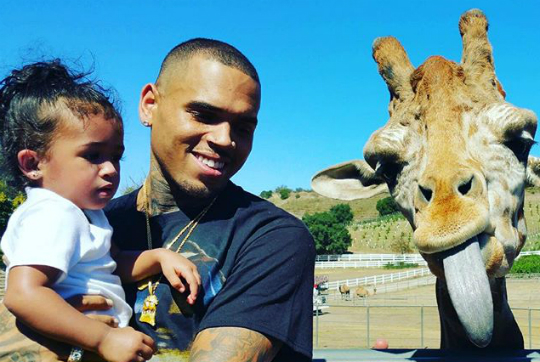 Chris Brown and Royalty spent the weekend in the studio and at the zoo. The celebrity father was definitely the doting dad as he laid a few tracks and explored the wonders of nature with his daughter.
"Climbing trees," captioned the star underneath a picture of him and Royalty looking out on the horizon while sitting on a trunk. Chris and Royalty also took a picture beside a giraffe. The animal stuck its tongue out at the camera while Chris wore a big smile.
It is rumored that Brown will feature his daughter on his upcoming album. "Of course you can't have a album title Royalty without the queen being featured on it," shared a family friend with Urban Islandz. The source further explained, "It was fun having her in the studio and you can tell that she is a star in the making."
Chris told fans that his upcoming album will be named after his daughter a few weeks ago. "My new album will be named 'Royalty,'" shared the star with Instagram fans. He further doted on his princess by saying that she was "the only one who will give me unconditional love and will teach me how to become a man."
Royalty is Chris Brown's only child with Nia Guzman. The little one celebrated her first birthday earlier this year.
Bonus:
https://instagram.com/p/8yFnuZvpRi/?taken-by=chrisbrownofficial