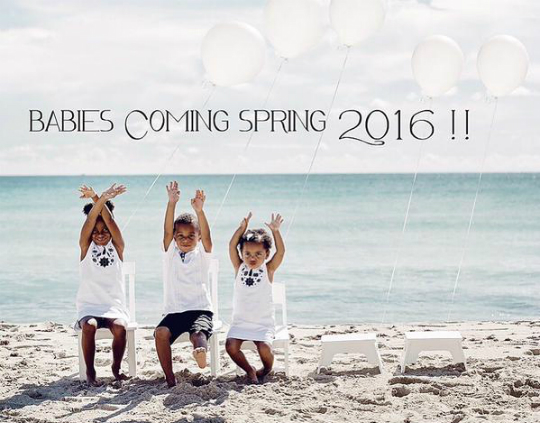 The Boshes are clearing the way for two bundles of joy. Adrienne and Chris recently revealed the incredible news of their expectancy of twins.
"Chris and I are so excited about having twins," shared Adrienne with PEOPLE. "The whole thing is amazing," added the celebrity mom. "The Bosh side of the family has two sets of twins, so they are overjoyed at the news of having another generation of them."
Adrienne and Chris are already the proud parents of a son named Jackson and a daughter named Dylan. Chris' oldest daughter, Trinity, helped her step-mom and dad announce their expectancy a few days ago. The youngster and her little sister sat in front of a chalkboard that read, "Big Sister Training: Spring 2016" while reading books.
"It's a celebration!! We're Expecting," exclaimed Adrienne. "The greatest gift that parents ever gave siblings was Each Other!!! Love that all the #BoshBabies will always have one another to experience life with, to grow with, to support, to love, to make memories with…that's why we always knew we wanted a large family."
The twins will make Chris the proud father of five kids.