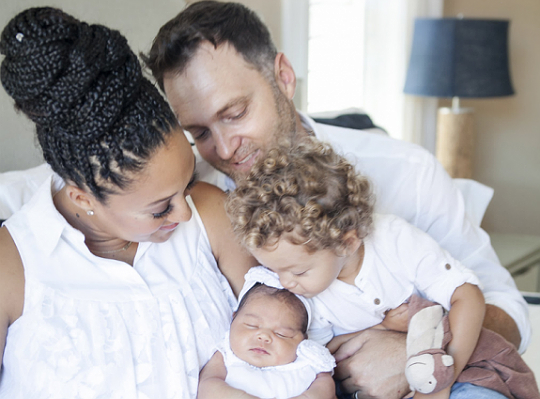 With two kids and a hit talk show, Tamera Mowry-Housley is trying to find the balance between motherhood and career woman. The star tells Mom.me that sometimes the common ground is at lunch with her fellow 'Real' co-hosts.
"I just had a conversation with my girls," says Mrs. Housley. "It was hysterical, because normally during lunch we all have our private girl chats. They're so great because I have to pump every lunch break and I'm sitting there, with my pump and my bra — and they're just so open and so comforting."
Although her equilibrium is a little off now that baby Ariah is in the picture, Tamera tells the media source that having a girl child is loads of fun. "I'd be lying to myself if I didn't say I love dressing her up," shares the star. "I have so much fun with girl clothes. There are so many more options than boys' clothes. There are great boys' clothes out there, but you have to become a lot more creative, whereas with girls' clothes, the sky is the limit."
Tamera will soon partner with Ben's Beginners to promote parent-child time during food preparation. The talk show host says that she and her son, Aden, have already gotten a head start on the movement. "His favorite thing to eat for breakfast is pancakes, and he knows the ingredients. He knows milk and eggs and the actual pancake batter. So he'll say, 'Milk, eggs,' and then I'll hand him the egg beater, and he'll just sit there, and he'll stir. We also use cookie cutters for the pancakes. And that's a really fun way of getting him involved, because you can't cut yourself on those things, so he learns different shapes and different things. It's fun for everybody."
Tamera and husband Adam Housley have two kids together. Ariah is the couple's youngest child who was born in July.