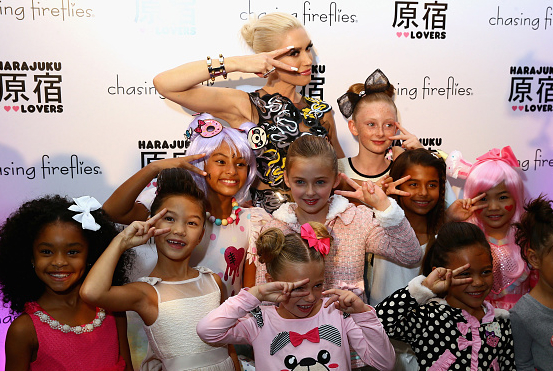 Sade Kimora Young(purple wig) poses with other children at a party hosted by Chasing Fireflies to introduce singer Gwen Stefani's Harajuku Lovers children's collection at Duff's Cakemix on September 24, 2015 in LA. Sade was one of several models to walk the runway.
"Having an event like this where [my designs] are celebrated on the runway like that…… It's crazy," the Voice coach told us with a smile after the fashion presentation. Calling the quality of the clothes "luxurious," Gwen told Style magazine.
"I've never really done something like that for children's clothes, because before I was doing it for such a low price point, which is super fun as well," she added. "To try to have the challenge to do something that looks really good that you can try to get your hands on it is really hard as a designer, so this is like a reward for me to be able to work with them."
Young is a young actress and model. She recently starred in the movie Sister Code.