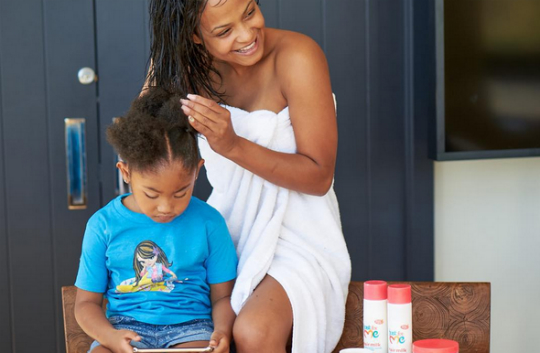 Christina Milian and her daughter, Violet, are challenging their fans to take the Five Finger Challenge. The celebrity mom and her little one have teamed up with Just For Me hair care to promote its children's line for natural hair.
"Violet and I are teaming up with @JustForMeHair to put their detangling products to the test with the #5FingerChallenge," shared Milian on Instagram a few days ago. "I can run my five fingers through Violet's curls without tugging her tangles so there are no more struggles or tears during tub time!" Christina also shared a video of herself combing through Violet's hair and challenged fans to post their own footage with the hashtag, "#5FingerChallenge."
The challenge involves both sharing footage and challenging other moms and dads to use Just For Me hair products when combing out the kinks in natural hair. The brand hopes to increase its consumer base while showing parents the benefits of properly detangling curly hair.
"Our research shows that wash time for children with textured hair and their parents can often be unpleasant and stressful," says Vice President of Haircare for Unilever Robert Candelino. "Just for Me hopes to untangle the fear and anxiety that is associated with 'wash day' by offering moisturizing and detangling products, reducing tangles and breakage, and also encouraging the process to be fun and enjoyable."
Check out Christina Milian and Violet's video below! Learn more about Just For Me natural hair care line here.
https://instagram.com/p/8WiCR6sWo5/?taken-by=christinamilian