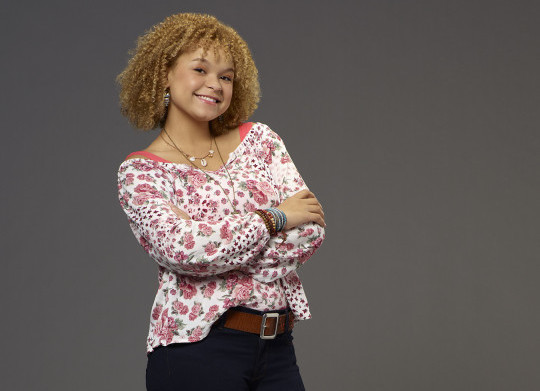 Singer and actress Rachel Crow is set to star in the Disney original movie Invisible Sister, which premieres this Friday October 9 (8:00 p.m., ET/PT) on Disney Channel.
Invisible Sister  is the comedy adventure story of Cleo, a girl whose science project goes terribly wrong, making her popular older sister Molly suddenly invisible. Rachel stars as Molly's outgoing best friend, who with the help of  Cleo's best friend George and her crush Carter, and Molly's boyfriend The Coug, race to find the antidote to reverse Molly's invisibility before it becomes permanent.
In addition to acting, Crow has also been busy making a difference in her community. The teen was recently honored by the Angels in Adoption program for her work in bringing awareness to adoption and fostering youth. She received the 2015 Congressional Angels in Adoption Award and gave congressional leaders a firsthand account of her life as an adopted child.
Rachel Crow rose to fame after an amazing run on the USA version of the hit show "X Factor." She has since released a self-titled EP, which debuted on iTunes top 100 chart, and toured with a variety of musical acts including Big Time Rush and Cody Simpson. She is currently working on her second EP and has starred in a number of television shows, including guest star roles on "The Office," "Big Time Rush," and a recurring guest star role "Fred: The Show."
Check out Invisible Sister on the Disney Channel this Friday, October 9, 2015 at 8 p.m. See a clip from the movie below!
Photos: Disney Channel/Cook Allender/ Bob D'Amico