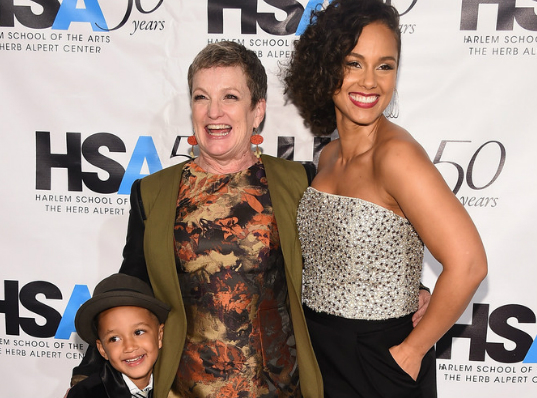 Alicia Keys, her mom Terria Joseph, and her son Egypt posed at the Harlem School of the Arts' 50th anniversary kickoff in New York City on Monday. The event was held at The Plaza, and served to benefit the school and its efforts to enrich the community.
For five decades, Harlem School of the Arts has given families an outlet by which they can express themselves. The school is home to a number of talents who have managed to become Hollywood sensations through the years.
Alicia Keys knows all about fame, and seized the opportunity to thank her mom while being honored with the Visionary Artist Award at the anniversary kickoff. "Tonight, this honor here is really all about my mother," said Keys during her acceptance speech. "I want to thank you for being my example of dedication, of loyalty, of determination, of dreams, of compassion, of kindness, reciprocity and womanhood. I want to thank her for everything that I am, because without her, I wouldn't have the soul that I have, I wouldn't have the love that I have, the will that I have, the versatility that I have or the strength that I have… Because without you, there would be no me, and that's actually and artfully."
Alicia Keys and her husband, Swizz Beatz, welcomed a son, Genesis, last year. He will celebrate his first birthday on December 27, 2015. Egypt is the singer and her husband's oldest son.
Photo: Getty Images