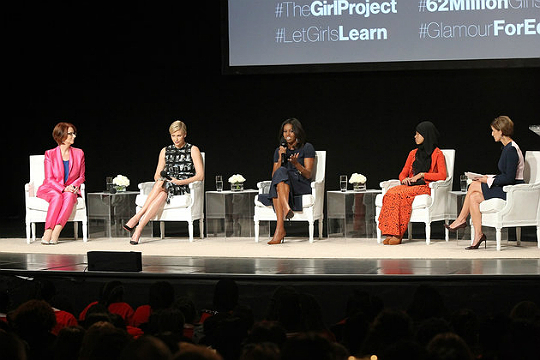 Michelle Obama is encouraging every young girl to step up to the call and compete with their male counterparts in the way of education. The first lady rendered powerful words at Glamour's 2015 'The Power of An Educated Girl' panel in New York City  earlier this week. Michelle reflected on her daughters as she imparted wisdom to girls who have the opportunity to obtain an education in the United States and throughout the world.
"When I think about those 62 million girls that aren't in school, I think about myself. I think about my daughters," said the first lady. "Because quite frankly all these girls, these are our girls, and I think about where I would be in my life if I didn't work hard in school and had the opportunity to go to college and then on to law school. I wouldn't be here."
Michelle further explained, "There is no boy at this age that is cute enough or interesting enough to stop you from getting your education. If I had worried about who liked me and who thought I was cute when I was your age, I wouldn't be married to the president of the United States today." She then encouraged the girls to compete with the boys in the world of academia and stop at nothing to retain every bit of knowledge that is being passed down to them from their teachers. "It is going to be the key to your future," said the first lady.
Michelle and President Barack Obama have two daughters, Sasha and Malia, who are currently in high school. Malia, the oldest of the two, will finish out her senior year next summer.