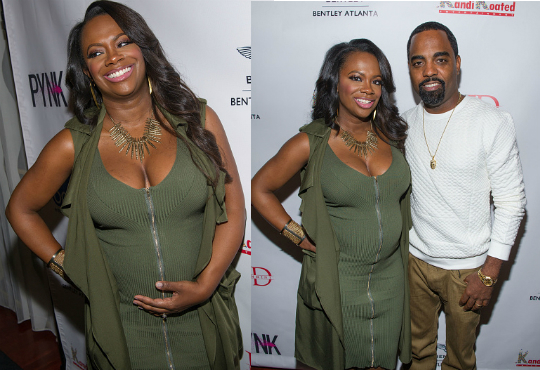 Kandi Burruss was one of many stars to attend the debut party for the video 'Unnecessary Trouble' in Atlanta, Georgia on Tuesday. The expectant star wore a green dress that hugged her curves along with a matching overcoat. Todd Tucker, Kandi's husband, was also at the event and smiled while taking pictures on the red carpet with his wife.
Burruss told fans that she is expecting her bundle of joy to arrive in January. "My #Babybump is getting out there now," shared the star on Instagram. "Can't wait to meet you #BabyTucker!. My baby is suppose to be a #Capricorn. Bringing in #2016 with a bang."
The Tuckers shared their joy of expectancy with PEOPLE during the beginning stages of Kandi's pregnancy. I'm ecstatic," shared Burruss who told the media source that she and Todd had been "looking forward to this moment" for a while. The Real Housewives of Atlanta star went on to tell fans that she would "love to have a boy" and suggestions were being taken in terms of names.
Kandi already has a daughter named Riley from a previous relationship. She is expecting her first child with Todd.