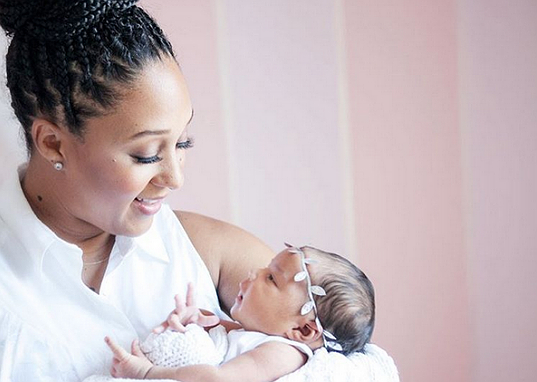 Baby Ariah is helping her mom shed the pounds. Tamera Mowry-Housley tells Huff Post Live that her daughter's desire to eat is making the calories melt away.
"She loves to eat, which is awesome," says Tamera. The actress further explains, "Because she loves to eat, and I'm nursing exclusively, that has helped me shed a lot of my baby weight. I gained more weight the second time around. I stopped counting around 60 [pounds]."
Although nursing Ariah is aiding Tamera in weight loss, the actress admits that "with Aden, it didn't." Tamera adds, "It's just so different. Each pregnancy, each postpartum, each child is different. For some reason Ariah, maybe because she just likes to suck it all out of me, I'm really burning a lot of calories."
Baby Ariah is Tamera and husband Adam Housley's second child. She was born on July 1, 2015. Tamera and Adam also have a son named Aden who will celebrate his second birthday in November. The Housleys wed on May 15, 2011.
Photo: Kateegrace.com