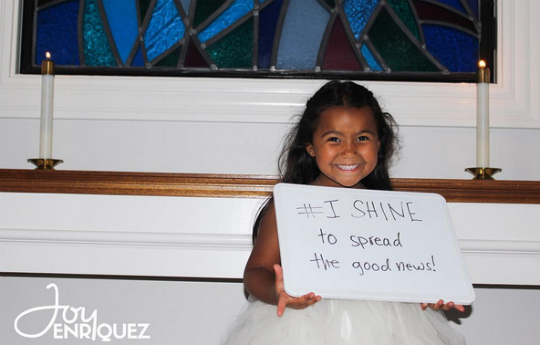 Joy Enriquez and her daughter, Heavenly Joy, are letting their lights shine in a big way. The two have partnered with the National Breast Cancer Foundation (NBCF) to spread awareness about the disease and help find a cure.
Joy was sharing her new single, 'Shine,' with a good friend when she discovered the need to partner with the NBCF. "As an artist, I often play my music for close friends before it is released to get their thoughts and opinions," explained the star on Instagram. "So imagine the surprise when my friend Verna, a wonderful mother and strong woman whom I respect so much, started crying as she listened to my new song #Shine that features my 5 year old daughter @heavenlyjoysings. Verna then confided in me her recent battle with #BreastCancer and told me that this song reminded her of everything she's gone through and how lucky and blessed she is to overcome it by the grace of God. Instantly, I knew what I had been called to do with this song, and our team set out to create a campaign to help #Shine a light on breast cancer awareness so that women everywhere can feel the hope, strength, and courage that I felt when listening to Verna's story."
Upon learning of her mother's plans, Heavenly immediately wanted to participate. "She understands her purpose. That's why she prays a lot. She understands she wants to live. She understands what Breast Cancer is because of her aunt, Rodney's sister, who passed away. She's really close with her cousin whose mom died and she has compassion for her. She's singing from a place of purpose," said Joy of her daughter's involvement in the new 'Shine' campaign.
Fans will soon get to enjoy the music video for 'Shine' that will feature Joy and Heavenly singing. Listen to the track below!