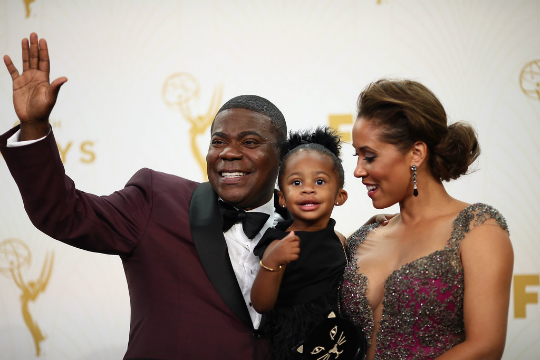 Tracy Morgan waved at adoring fans while standing beside his wife and daughter at the 2015 Emmy Awards. The comedian wore a big smile while standing beside his family.
Morgan received a standing ovation at the ceremony. Many of his colleagues cheered him on as he presented the final award for Outstanding Drama Series. Tracy cracked a few jokes, and told fans how much he missed being onstage. "I miss you guys so much," said the star. "Last year, Jimmy Kimmel stood on this stage and said, 'We'll see you back here next year, Tracy Morgan.' Well, Jimmy, thanks to my amazing doctors and the support of my family and my beautiful new wife, I'm here."
Tracy wed Meagan Wollover a few weeks ago. The comedian told fans prior to the ceremony that he was excited to get married. "She's right there," said Morgan of Meagan. "She stuck in there with me," added the star. "I can't wait for us to get married in August. That is the cherry on top of the cake for me."
Meagan and Tracy Morgan have one child, Maven, together. Tracy has four kids in all.
Photo: Getty Images