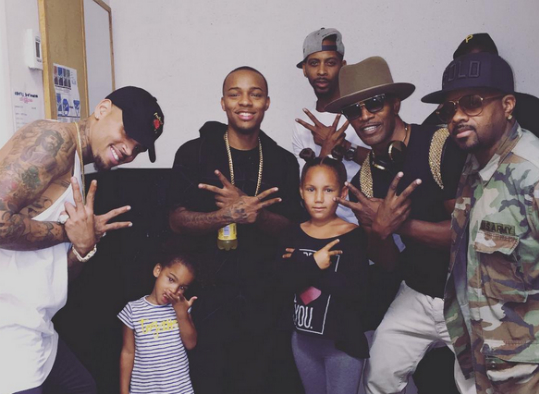 Jamie Foxx gave his daughter, Annalise, a big surprise this past weekend when he took her to see Chris Brown in concert. The little one did her signature crossed peace signs while surrounded by a number of Hollywood's biggest names.
"#daddydaughtertime #suprise took her to see young Chris brown #success," captioned Jamie underneath a picture of him and his daughter backstage. Shai Moss was also present with her father Shad Moss and enjoyed a bag of Skittles that she was unwilling to share.
"Jamie Foxx messing w Shai backstage," shared Shad along with footage of the youngster refusing to hand over a few of the candies to Jamie. "She wasn't giving up them skittles. I told her 'did you know who that was'? She goes no. I said baby 'ANNIE' she like ooooohhhh that WAS him Daddy. These kids."
This certainly isn't the first time that Shai and Annalise have spent time with show business royalty. It was just a few months ago that Annalise met celebrated artists John McCartney and Madonna during the 2015 Grammy Awards. She wanted to meet Madonna more than anybody ," shared Foxx with television personality Jimmy Kimmel. "She saw the performance and she said, 'Dad, I gotta meet Madonna because I loved her performance.' And I said, 'Well she's right up there.' So she goes up to Madonna and she says, 'I think your performance was the best … because you guys had the horns and everything."
Jamie Foxx has two daughters. Shad Moss is the proud father of one child.
https://instagram.com/p/71AfUkM-mj/
Photos: Von Jovey