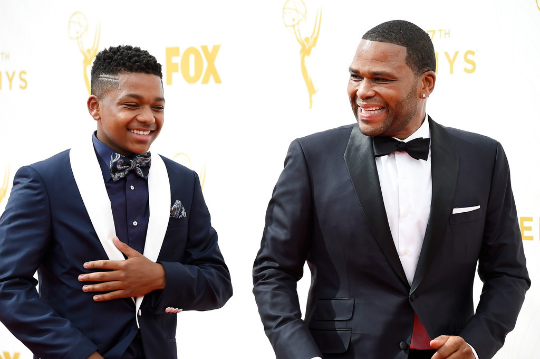 Anthony Anderson had his son by his side at this year's Emmy Awards. Nathan talked and laughed with his father while making his way through paparazzi at Microsoft Theater in Hollywood. Although excited about getting into the venue for the ceremony, the father and son took a pause for the cause of posing for photographers and fans.
We will soon see Anthony Anderson portray the beloved Dre when the second season of the hit series 'Black-ish' premieres on Wednesday via ABC. The first episode promises to be lively as Dre and Rainbow address Jack's decision to use the N-word during a talent contest at school.
In many ways, Anderson and his 'Black-ish' co-stars are breaking down barriers in television. "It means a lot because the stories that we're telling on our show are stories that I lived with my family," said Anthony during one interview. "It's great to be recognized in particular for the work that I'm doing because it's so close to me that it's taken from my life and it's put on screen, so words really can't begin to explain how that nomination means for this show in particular."
Anderson was nominated for Outstanding Lead Actor in a Comedy at this year's Emmy Awards. He is the proud father of two kids.
Photo: Getty Images