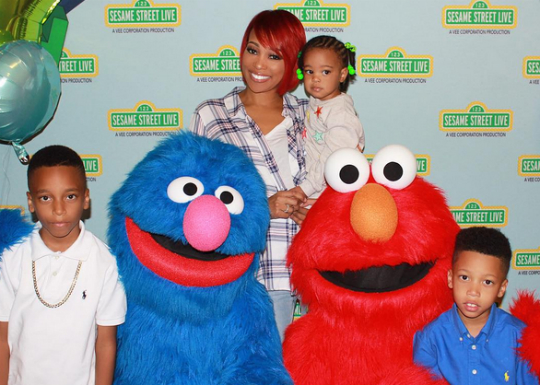 It was a fun-filled weekend for Monica Brown and the kids. The R&B singer took her little ones to see Sesame Street Live on Saturday.
Monica posted pictures of all three of her kids enjoying the various characters from the beloved show. "My Baby Boy So cool," shared Brown along with a picture of her son, Romelo. "I love that he doesn't really care what you think. Hugs and kisses me then daps his friends down like yeah that's MY momma. Even The Count knew #CoolKid."
Although she had a gig hours before the family's day out, Monica let nothing stand in the way of her spending time with her kids. "Last night getting back in time for the show seemed impossible," shared the star in an Instagram post. "After I performed I had them drive me from Sacramento to San Francisco, jumped on a 6am, landed at 1:45 and got downtown by 2:45 met My Hubby and Babies and had the best time ever. You make time for what's important to you. No excuses, they come first."
Monica and husband Shannon Brown have one child, Laiyah, together. Romelo and his older brother Rodney Jr. are Monica's kids from a previous relationship.
See video footage and pictures from Monica and the kids' Sesame Street Live showing below!
https://instagram.com/p/74B-Mrzaaj/