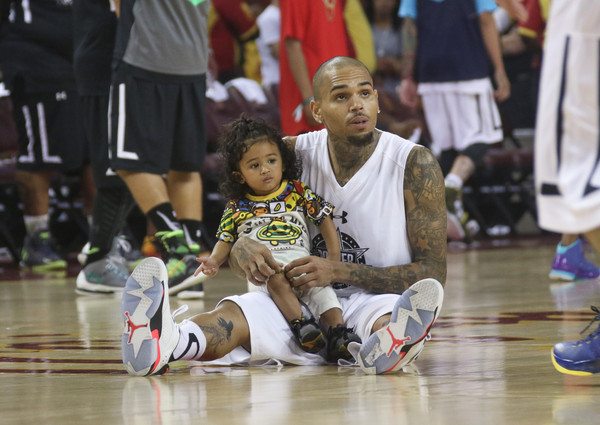 Chris Brown and daughter Royalty spent some quality time together at the Power 106 Game at the USC Galen Center in Los Angeles this past weekend. Brown was the doting dad as he carried his daughter around and even taught her how to do the 'NAE, NAE.'
"So beautiful to see a Man genuinely love his Kids!! #Respect #Royalty is Blessed," a fan wrote on Instagram.
Things have been on the up side for Chris Brown since a judge awarded him joint custody of his daughter a few weeks ago. Nia Guzman, Royalty's mother, was hoping to obtain full custody of her and Chris' daughter after accusing him of being an unfit parent. She also asked the courts to increase the monthly amount of child support payments from $3,000 to $15,000. The judge denied both of Nia's petitions and ordered her to refrain from speaking ill of Chris on social media.
Royalty is Chris Brown's only child. She celebrated her first birthday earlier this year.
https://instagram.com/p/74TmBWPpeS/?taken-by=chrisbrownofficial
https://instagram.com/p/74Kb8HPpQ2/?taken-by=chrisbrownofficial
https://instagram.com/p/73_RwMPMjy/?taken-by=royaltybrownn