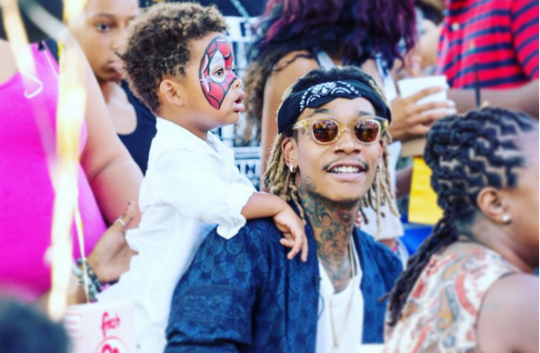 Wiz Khalifa returned to Pittsburgh to celebrate his 28th birthday, and had his son, Sebastian, by his side for the festivities. The rapper spent a day in Kennywood Park on Saturday, where he was photographed while spending time with his son.
Never knew this much love existed," shared Wiz along with a candid of Sebastian smiling while holding a water bottle. The recording artist also uploaded a picture of his son pointing at the camera. "Wherever he wants to go," captioned Khalifa underneath.
Sebastian's grandmother, Peachie Wimbush, also commented on her grandson and the joy that he brings the family. "He is the reason why I fight to make the world a better place," shared Peachie.
The rapper's mother was overwhelmed by the magnitude of love given to her son on his birthday. "I am so grateful for everyone that came from near and far to celebrate my baby boi," wrote Peachie on Instagram. "He asked for an amusement park birthday celebration and we shut down #kennywoodpark just for that expressed purpose."
Sebastian is Wiz Khalifa's son with ex-wife Amber Rose. See more pictures from the rapper's birthday celebration below!