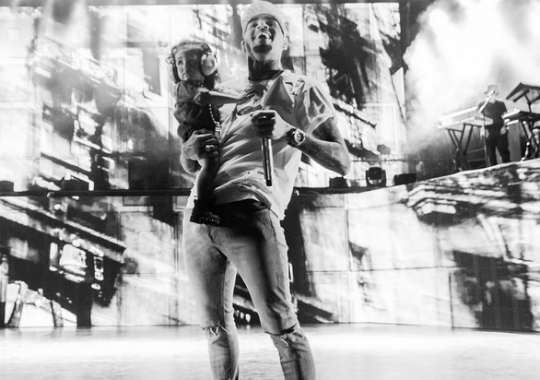 Royalty had a blast onstage at dad Chris Brown's concert this past weekend. The 1-year-old had the opportunity to be in the spotlight with Chris as he sang a number of his greatest hits.
"Lil momma came on stage to say what's up," shared Chris. The singer also uploaded a picture of his daughter greeting ecstatic fans at the concert.
Chris celebrated a great victory last week as a judge granted him joint custody of Royalty. Nia Guzman, the 1-year-old's mother, only wanted him to have occasional visits that were supervised. The judge, however, saw fit to give Brown all of his parental rights, and denied Nia's monthly request for $15,000 per month in child support.
Chris was later ordered to undergo a surprise drug test. According to TMZ,
"Something else happened in court. Her lawyer asked the judge to force Chris to submit hair and urine samples for drug tests, and the judge ordered Chris to ante up on the spot.

The judge didn't say what he would do if the tests came back positive for drugs … it would obviously depend in part what type of drugs, if any, were present in his system."
Royalty is Chris Brown's only child with Nia Guzman. She celebrated her birthday earlier this year.
https://www.youtube.com/watch?t=25&v=SLMx-BiDljs