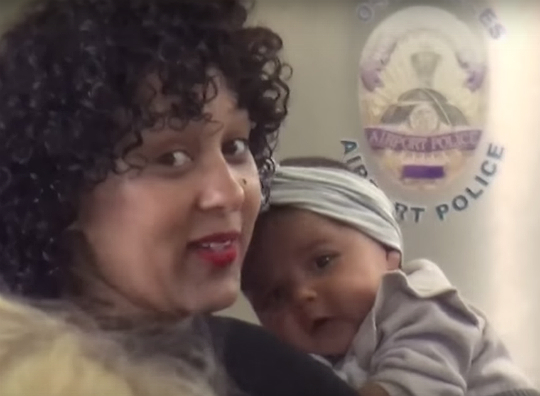 Cuteness here! Tamera Mowry-Housley gave fans a first look at her daughter, Ariah, earlier this week and the little one was the epitome of adorable. Little Ariah accompanied her mom to LAX airport en route to New York and remained fairly calm during the security clearing process.
The 2-month-old briefly looked at paparazzi while mom rubbed her back. Tamera also glanced over at photographers and later told them that she was all for a Sister, Sister remake. Awesome!
At present, Tamera is in New York City promoting the upcoming season of The Real. It was just a few months ago that the co-host allowed herself to be taken by surprise as her husband told her and ecstatic fans that they were expecting a girl. Ariah was born several weeks later, and was everything Tamera prayed for.
"You have to watch what you pray for," shared the actress with PEOPLE shortly after giving birth. "Ariah's a big girl, but I love the fatness. I love to show off her rolls and I dress her in rompers for summer. She has the chubbiest legs!"
Little Ariah is Tamera and Adam Housley's second child together. The couple also have a son named Aden who will celebrate his third birthday in coming weeks.
Bonus: Tamera Mowry and kids in People Magazine
https://instagram.com/p/7NobRKM8XE/?taken-by=tameramowrytwo