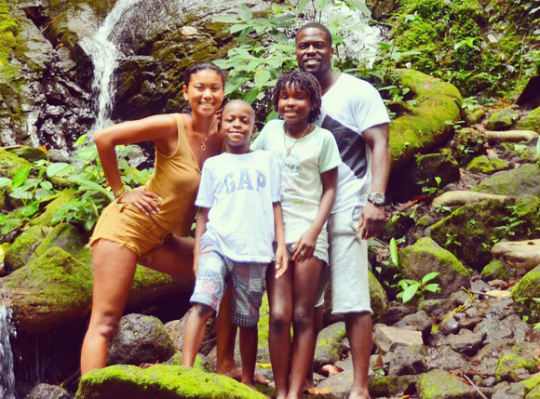 From Philadelphia to Costa Rica, the Harts are having a blast. Kevin, the kids and Eniko shared pictures from their trip with Instagram fans on Tuesday.
"#FamilyVacation #CostaRica #JungleLifeForAcoupleOfDays #Harts," hashtagged Kevin underneath a photo of the family posing near a waterfall. Heaven and Hendrix stood next to one another while Kevin and Eniko surrounded them on both sides.
It was just a few days ago that the Harts ran a 5K together in Philadelphia. Kevin, the kids, and Eniko raised their arms high in celebration after completing the race together. "I am blown away by the turnout the we had this morning in Philadelphia," shared Kevin after the competition. "My city came out and supported in a Major way!!!! Today's 5K was Historic…We had D*** near 4,500 people come out and run!!!! Woooooow….These RUNS are becoming ground breaking….Way to go Philadelphia."
Kevin Hart has a daughter, Heaven, and a son named Hendrix with ex-wife Torrei Hart. He is currently engaged to Eniko Parrish.