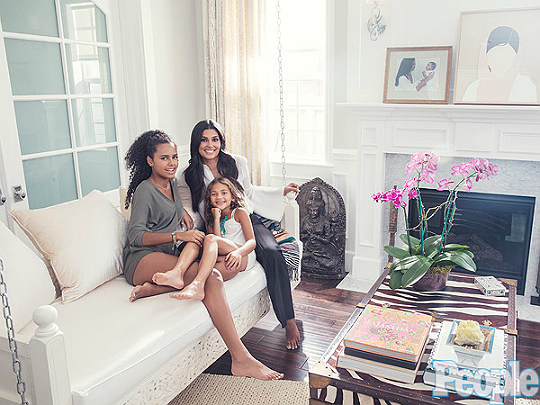 Rachel Roy is a stylist who knows how to be pampered. The celebrity mom recently sat back and let her daughters, Ava and Tallulah, style her for PEOPLE magazine's newest issue.
Ava and Tallulah showed off their expertise as they coordinated colors and accessories well. The girls took into account their mom's figure and dressed her well. Rachel must have been proud to see her remnants of her fashion sense in her daughters.
The stylist has been helping celebrities look their best on and off the red carpet for years, and has a closet full of clothes to show for it. "I have pieces in my closet that I love for different reasons," shares Rachel with PEOPLE. "I know exactly how they're made, and in many cases I know many of the designers. I also work hard to buy things, so I like them to stay nice."
Roy is planning to pass on her legacy and clothes to her daughters as they grow older and mature. In fact, she recently let Ava borrow a pair of Manolos. "At first I thought, 'No, I would not let this little girl borrow my Manolo [Blahniks],'" explains the star. "And then [Ava and I] started wearing the same size shoe, and sure enough, she got to borrow Manolos to wear to a family member's wedding. I also let her borrow a pair of Manolos to wear to the White House!"
Ava and Tallulah are Rachel Roy's kids with ex-husband Damon Dash. See the stylist and her girls in the latest issue of PEOPLE magazine.