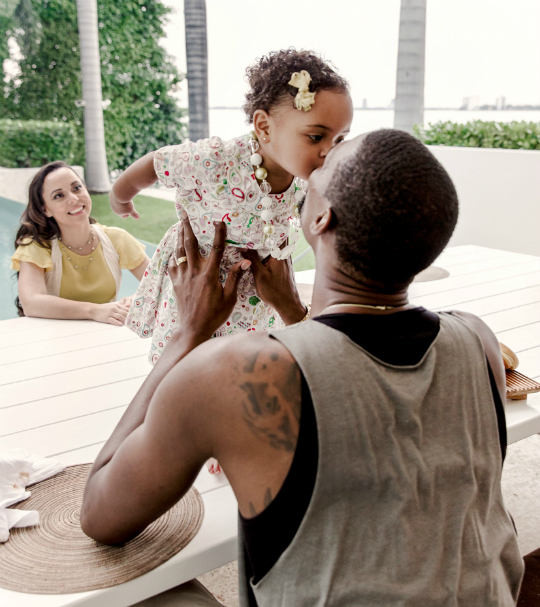 We often see him on the court but few have known the life of Chris Bosh as husband and father; until now. The NBA star shares a snippet of his typical day with Haute Living readers, and his trails begin in the morning.
"I usually wake up around [8:30 a.m.] and head downstairs around 9," says Chris of the beginning of his day. "As soon as I'm down there, my kids can just sense it. They start filing in one by one, five or ten minutes after I get to the kitchen. As soon as I start watching something, I hear, 'Hey Daddy!' so I change it from ESPN to Cartoon Network, Disney Channel, or Nickelodeon, so they can watch."
After breakfast, Chris heads off for training while Adrienne runs errands with the kids. The star reunites with his family at round 3 p.m., and sets aside time to spend with his youngest child, Dylan. "She's only 20 months, so she's not really talking clearly yet, but I can still understand her. We have a playpen with tons of balls in it and she loves it, so we'll play there." Chris also spends time with his older children, Jackson and Trinity.
Head over to Haute Living to see Chris Bosh's full day. The NBA star has two kids, Jackson and Dylan, with wife Adrienne Bosh. He has three kids in all. See more pictures of the Boshes below!
Photo: April Belle