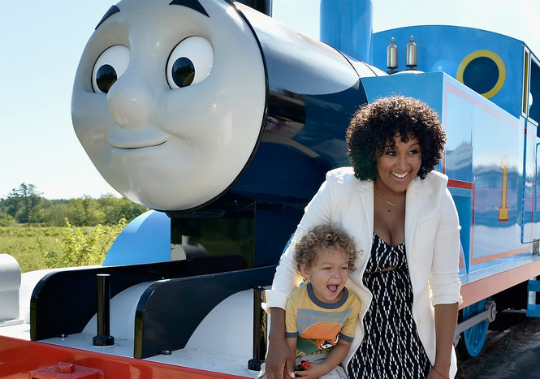 It was a fun-filled weekend for three members of the Housley family as Tamera, Adam and Aden attended the Edaville USA And Mattel Grand Opening Of Thomas Land on Friday. The youngest member of the family, Ariah, did not attend the event in Carver, Massachusetts.
Aden was excited to explore Thomas the train with mom. Tamera also bore a smile while having fun with her son. Aden was  photographed while being carried around the facility by dad as well. Adam held his son high while conversing with Tamera.
Thomas Land opened its doors to a select few this past weekend. Many children were anxious to see the attraction that cost approximately $25 million to build. "It was a lot of work but it is nothing short of unbelievable," said park owner Jon Delli Priscoli during the opening. "Our focus here is on children, families, and parents, and bringing them here for a truly wonderful thing."
Tamera also told media that she has "been a fan of Thomas and his friends for years. I hope to pass that love on to my son."
Aden is Tamera and Adam Housley's oldest child. He will celebrate his third birthday in November. Tamera and Adam welcomed their daughter Ariah on July 1, 2015.
Photo: Getty Images