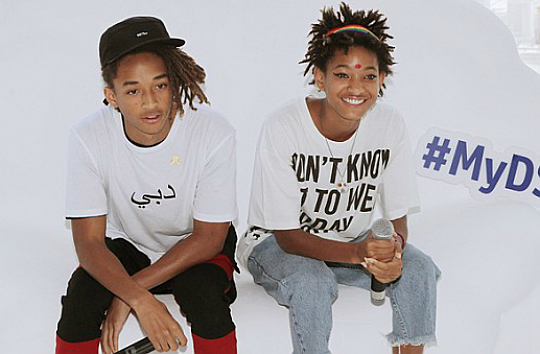 Willow and Jaden Smith recently touched down in Dubai to meet the press at Burj Khalifa, where they discussed everything from their current music careers to future aspirations in show business.
"When I was here last time with my dad we were like, 'Let's make a Dubai song, let's make a Dubai movie," said Jaden during the press conference. "I think it would be really cool," added the star. "All the movies that I've seen that have been shot in Dubai, the Mission Impossible 4 movie that came out, it all looks so cool. I feel that's something that I want to do."
Jaden has worked in the film industry for more than a decade. He began his career alongside his father in The Pursuit of Happyness," and took the lead role in After Earth, which also starred Will Smith. It will be interesting to see what type of film Jaden envisions for Dubai. See more photos of the teen's press day with his sister below!
Read more on the celebrity siblings HERE.
Photos: TimeoutDubai