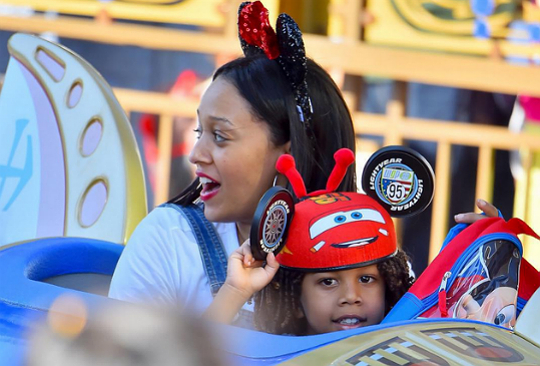 It was a fun day at Disneyland for Tia Mowry-Hardrict who visited the theme park with her husband and son on Tuesday. The Instant Mom star enjoyed several rides and took a number of pictures before leaving the adventure zone at the day's end.
One picture that stood out from the others was the candid that the family took while riding Splash Mountain. Tia and her son Cree are huddled together in the shot while Cory, the patriarch of the family, is giving off a serious look. "I can't with Cory," captioned Tia underneath the hilarious pic. "@taviormowry16 I'm dying laughing over here! Help!"
Tia and Cory have been married for a number of years and, thus far, have one child together. Mrs. Hardrict expressed her desire to have another child earlier this year. "I think, 'Okay, maybe I can do this again,'" shared Tia with media during her sister's pregnancy. While the actress was excited about Tamera's expectancy of a baby girl, Tia admitted that "girls are hard. They're very hard," added the star. "I hear the relationship between mommy and son is the best. Who knows? My husband wants a girl, he really does."
Cree celebrated his fourth birthday in June. See more pictures from the Hardricts' trip to Disneyland below!