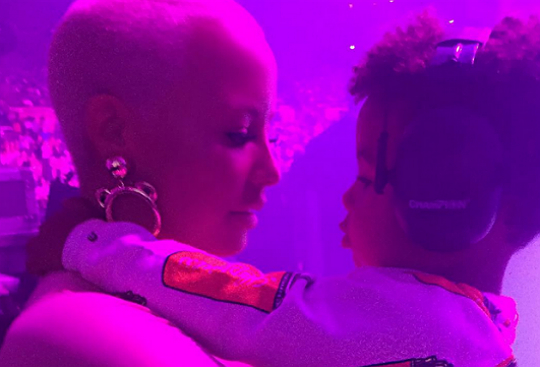 Sebastian Thomaz is Amber Rose's "greatest gift." The celebrity mom shared a picture of her with her son backstage at the Boys of Zummer Tour in Los Angeles on Monday. It was the the last night of performances, and Amber took time away from her busy schedule as a ticketed artist to hang out with her son.
In addition to enjoying his mother's company at the concert, Sebastian had a blast onstage with dad. Wiz Khalifa had the crowd hyped while Bash entertained them with his unique dance. "Our Lil Rockstar! Sebastian took over his Dad's show last night," shared Amber.
Although she and Wiz have experienced their share of challenges since separating a year ago, they are doing a great job of co-parenting their son. "I just know that Sebastian has a really great dad, that allows me to work," said Rose during New York Fashion Week last year. "When he works, I have the baby and we switch off and Sebastian is really lucky to have a great family."
Sebastian is Amber and Wiz's only child together. He celebrated his second birthday in February.
https://instagram.com/p/6QIobuBQai/
https://instagram.com/p/6Q1tKQEq4J/