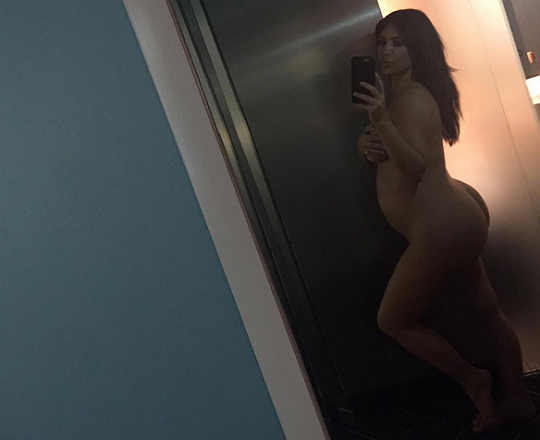 Pregnancy is making Kim Kardashian-West bold as ever. The expectant mom recently shared a picture of herself while nude, and left a candid message for skeptics.
"First they say I'm too skinny so I have to be faking it…Now they say I'm too big so I have to be faking it…SMH," wrote Kim. "Some days I'm photographed before I eat & look smaller, some days I've just eaten & I look bigger. It's all a part of the process. I think you all know me well enough to know I would document the process if I got a surrogate."
Mrs. West went on to tell fans that "everyone's body is different," and she is proud of her curves. "I've learned to love my body at every stage! I'm going to get even bigger & that's beautiful too!"
The star ended her note by telling critics, "I'm grateful to God for this miracle & no matter what rumors or comments you throw my way this time they truly don't affect me! #NoFilter #NoPhotoShop #GoodLighting."
Kim Kardashian is expecting her second child with husband Kanye West. The couple's bundle of joy, a son, will join their daughter North at home this winter.