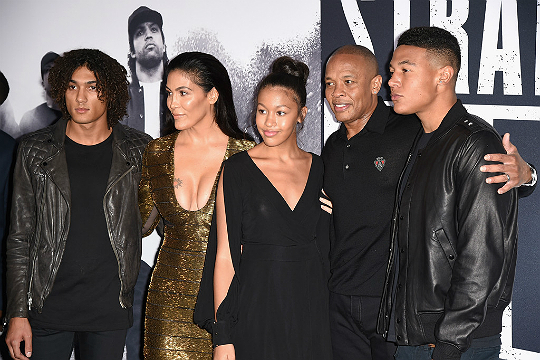 Romelle Young, a.k.a. Dr. Dre, and the family attended the Los Angeles premiere of Straight Outta Compton at Microsoft Theater on Monday. The producer had his daughter and two of his sons with him while on the red carpet with his wife, Nicole.
Straight Outta Compton tells the story of Dre's rise to fame. The movies showcases all of the challenges that the producer and his N.W.A group faced while making a name for themselves in the music industry. Ice Cube and the late Eazy-E are also chronicled in this true-to-life film.
Dr. Dre discussed his and N.W.A's biopic as it relates to inner city life during a recent interview. "It's crazy how we were getting criticized for this years ago," said the star. "This movie will keep shining a light on the problem, especially because of all the situations that are happening in Ferguson and here in Los Angeles. It's definitely going to keep this situation in people's minds and make sure that everyone out there knows that this is a problem that keeps happening still today."
Straight Outta Compton makes its public debut on Friday, August 14, 2015. Dr. Watch the trailer below!
Photo: Getty Images