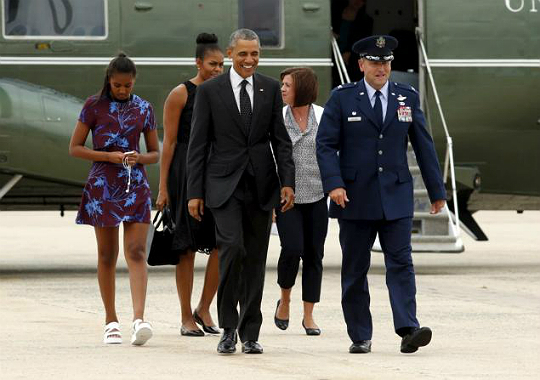 The Obamas are taking a few days to relax on Martha's Vineyard in Massachusetts. The first family took their 17-day summer vacation a few days early sans 17-year-old Malia.
The president was all smiles as he left the White House with his wife and youngest daughter. First Lady Michelle Obama also appeared happy to be getting away for a few days. Sasha was the indifferent member of the family who remained preoccupied with her smartphone while walking alongside her parents.
President Obama shared the secret to his happy family during an interview with TODAY last year. "The one thing the girls know about me is I love 'em to death," said the commander in chief. "Younger parents… ask me why it is that Malia and Sasha turned out so well. I say, 'Well, first of all, you know — marry somebody who's going to be a great mom,' which I did. But second of all, unconditional love sure makes a difference."
Sasha celebrated her fourteenth birthday in June. She will begin high school in the fall. Malia Obama, who is currently interning in New York, will start her senior year of high school in coming weeks.