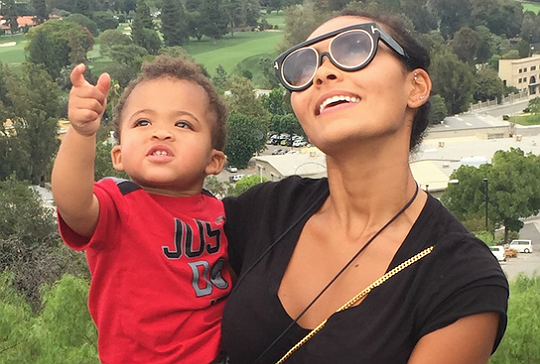 Shaniece Hairston is such a great big sister! The model, and daughter of Evelyn Lozada, recently took her little brother, Carl Leo, to Universal Studios Hollywood.
"I took Leo to Universal Studios for a fun-filled day of rides, treats and quality brother/sister time," shared Shaniece with her blog readers. "We went on some of the kiddie rides, which he loved. I can already tell he's gonna be a little daredevil lol. There's nothing I cherish more than my time with him, so I'm trying to get as much in as possible before he's all grown up and too cool to hang out with me — time is flying way too fast."
Shaniece is turning out to be the rock of the family as she was the first person who got wind of Evelyn's miscarriage a few weeks ago. "It's not good," said Evelyn during an episode of her reality show Livin' Lozada. "When you're pregnant, your hormone levels are supposed to be in the thousands. [Mine] went all the way down to 50…Most likely, I'm going to end up miscarrying the baby." Although devastated, Shaniece was the emotional support that her mom needed to cope with the bad news.
Evelyn Lozada has one child, Carl Leo, with fiance Carl Crawford. Shaniece is her daughter from a previous relationship.