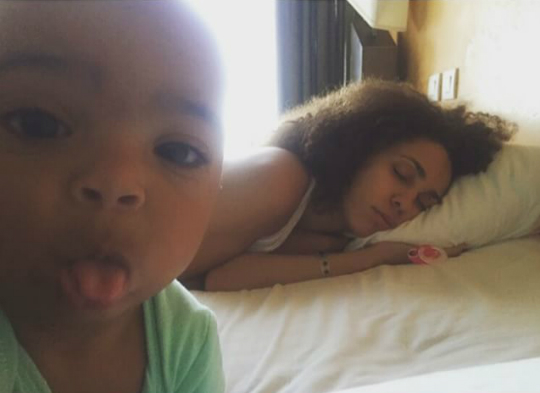 Look out Kim Kardashian! At just eight months old, Berkeley Gross is learning the art of selfies. The little one recently took a picture that was "selfie" worthy with the help of dad.
Berkeley's mom, Rebecca Gross, was asleep in the background and the little one was very close to the camera's lens. Of course, the youngster had the help of her father, Lance Gross, who more than likely took the picture since Berkeley is not yet old enough to snap photos herself. "Berkeley's silly Selfie while Mommy sleeps," shared Lance.
Taking selfies isn't the only thing that the youngest member of the Gross family has been doing this summer. Little Berkeley has also been enjoying the sights with mom and dad while riding in the car, and engaging in a bit of horseback riding. In fact, it was just a few weeks ago that Lance photographed his wife and daughter while riding. Berkeley was seated on a pony while her mom stood by for support. The youngster has also visited the Orange County Fair with her parents during these summer months.
Berkeley is Rebecca and Lance Gross' only child. See more pictures of the little one below!