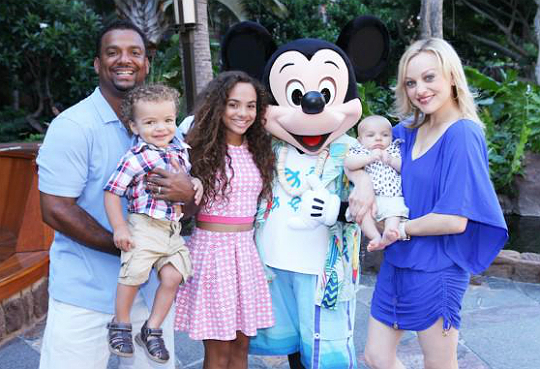 It was a time filled with adventure earlier this month as the Ribeiros visited the Happiest Place on Earth. That's right! Alfonso, Angela and the kids took a trip to Disneyland and spent time with Mickey Mouse.
The celebrity family made it their business to take a picture with Mickey before eating at Aunty's Breakfast Celebration at Makahik. Even baby Anders was awake for the precious moment. The Ribeiros also stopped by the spa where they received luxurious treatment and a whole lot of attention from adoring fans.
Many remember Alfonso from his days as Carlton on the Fresh Prince of Bel Air. Few can forget his triumphant return to the spotlight on Dancing With The Stars a few months ago wherein he took home the trophy at the season's end. Angela and Alfonso Jr., the couple's oldest son, were in full support of Alfonso on the sidelines. The two celebrated in a big way after the actor was announced as the competition's winner.
Alfonso and Angela have two kids together. Anders was born on April 30, 2015. Sienna is Alfonso's daughter from a previous relationship.
Photos: DisneyParks