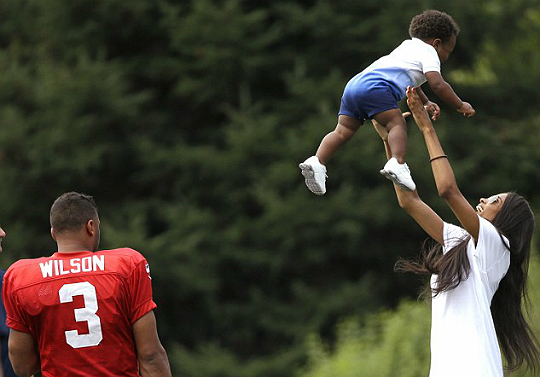 Ciara and baby Future have been spending a lot of time with the 'I Bet' singer's boyfriend at training camp to the disapproval of a few fans and celebrities. The singer took her son to see Russell Wilson again on Monday, which caused rapper T.I. to speak out.
"I'd go da F— OFF bro!!! S— outta line to me…. But that's just me," tweeted Tip in response to The Shade Room's question of how fans of Nayvadius Cash, a.k.a. Future, and Ciara feel about the 'Body Party' singer taking Future around her boyfriend.
Nayvadius even responded to Russell's presence in his son's life. "The devil gone come From all angles but I'm cover wit Angels," shared the rapper on Twitter this past weekend. "Never make a permanent decision over a temporary circumstance," added the star.
Ciara and Nayvadius ended their long term relationship last year. Ciara later told The Breakfast Club that she and her former fiance were "cool. We have a child together and I think, as a parent, it's important to communicate."
She went on to explain that "everything in life happens for a reason and my son has been the greatest gift that God has given me in my life. He has been the most game-changing thing in my life in a necessary way."
Little Future is Ciara and Nayvadius' only child together.
Photo: Associated Press