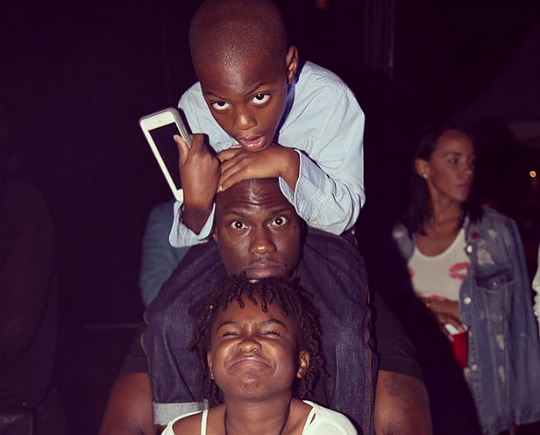 Kevin Hart made a joke about what he would do if he discovered that his son was gay during the 'Seriously Funny' comedy hour in 2010. The comedian told fans at the time that one of his biggest fears was "my son growing up and being gay. That's a fear. Keep in mind, I'm not homophobic. . . . Be happy. Do what you want to do. But me, as a heterosexual male, if I can prevent my son from being gay, I will." Now, five years later, Hart addresses the meaning behind the humor.
"It's about my fear," says Hart to Rolling Stone. "I'm thinking about what I did as a dad, did I do something wrong, and if I did, what was it? Not that I'm not gonna love my son or think about him any differently. The funny thing within that joke is it's me getting mad at my son because of my own insecurities — I panicked. It has nothing to do with him, it's about me."
The comedian further explains, "That's the difference between bringing a joke across that's well thought-out and saying something just to ruffle feathers.I wouldn't tell that joke today, because when I said it, the times weren't as sensitive as they are now. I think we love to make big deals out of things that aren't necessarily big deals, because we can. These things become public spectacles. So why set yourself up for failure?"
Kevin Hart has a son named Hendrix and a daughter named Heaven with ex-wife Torrei Hart.