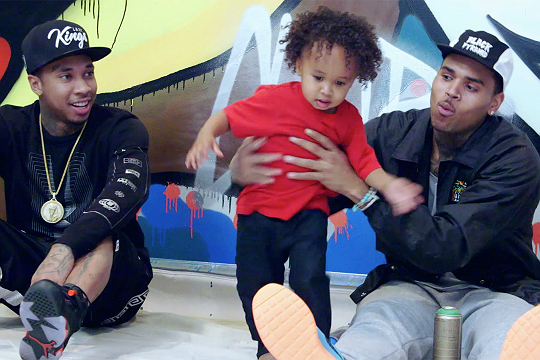 Tyga's reality show, Kingin' With Tyga, got off to a hilarious start with the rapper's son spraying the wall and R&B singer Chris Brown during the first episode.
At 2-years-old, King Cairo has gotten to that age where he likes to draw on things. Instead of letting his son randomly write on walls throughout the house, Tyga decided to invite the little one's godfather, Chris Brown, over to paint a mural. The idea of the activity was for King to have a more structured way of expressing himself. The concept, however, went south when the toddler picked up a paint can and began spraying Chris' pants leg.
"Oh! No, what are you doing? Stop, stop, stop," shouted Tyga while trying to get the can away from his son. Chris chuckled at his godson's behavior, which Tyga described as "crazy." Watch the full episode here. Kingin' With Tyga airs weekly at 11:30/10:30c on MTV.