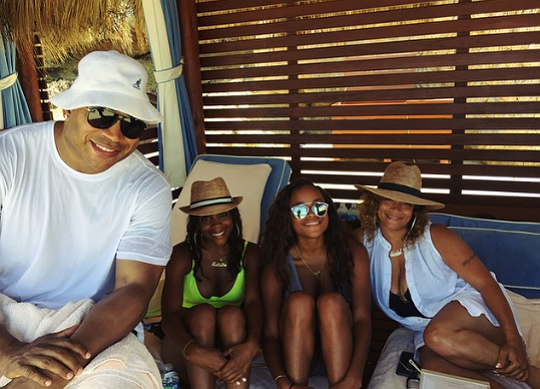 The Smiths are enjoying a vacation in Mexico this summer. LL Cool J and his family were recently photographed while spending time on the beach.
"Everybody say,'Tequila'" captioned eldest daughter Italia underneath one photo. The candid featured the kids with Simone who placed a hand on her hip for a cute pose. LL Cool J was also photographed with his kids in a picture that showcased the family while wearing white.
Simone and LL have been married for more than a decade and have enjoyed parenting four kids together during that time. "My marriage and my kids definitely come first," said the celebrity mom during one interview. "I make time for my kids," added Simone. "I do the regular things that moms do. I run my house, I drive my kids to school, and I have a great support system. It's definitely important for me and my husband to have 'Mommy-Daddy time.' We do the movies, we go to dinner, but we also do family things with the kids as well."
Many of the "family things" encompass giving back to the community. LL along with his wife and kids have been honored on several occasions for their contributions to various charities in addition to running their own non-profit organizations. Simone even launched a jewelry line, Simone I. Smith, that funds cancer research.
LL Cool J and Simone Smith are the proud parents of three daughters – Italia, Nina and Samaria – and a son named Najee. See candids of the family below!
https://instagram.com/p/5VOEPKN3x3/?taken-by=italiaanita
https://instagram.com/p/5VUCQqt3wl/?taken-by=italiaanita
https://instagram.com/p/5WPffqljCg/?taken-by=sislovespurple
https://instagram.com/p/5XVqnsFjFT/?taken-by=sislovespurple
https://instagram.com/p/5SOuPrN39Z/?taken-by=italiaanita